Dee PT is all about movement.
As physical therapists we are experts in the human movement system. Why does it hurt here and not there? What is the source of my pain? If it hurts to move, or it feels better at rest, you should come see us first.
Experiencing pain from an injury? We offer Free Injury Screens. Schedule an Appointment.
Dee Physical Therapy Locations
Shelburne
166 Athletic Drive Shelburne, VT 05482
Burlington
Office 23 San Remo Drive So. Burlington, VT 05403
Hinesburg
52 Farmall Drive Hinesburg, VT 05461
Shelburne, Vermont
166 Athletic Drive
Shelburne,VT 05482
P:(802) 985-4440
F:(802) 489-5880
South Burlington, Vermont
23 San Remo Drive
So. Burlington, VT 05403
P:(802) 865-0010
F:(802) 865-0050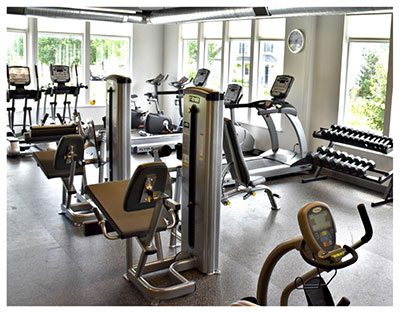 Hinesburg, Vermont
52 Farmall Drive
Hinesburg, VT 05461
P:(802) 482-2200
F:(802) 482-3333
I am thrilled that the facility opened here in Hinesburg. Mike's help with my MS balance issues is wonderful and I am happy to be able to use the fit space on other days of the week – especially the NuStep. I want to also send positive feedback to all the staff for their friendly ways and caring attitude."
What Are Your Symptoms?
Dee PT can help you address a variety of symptoms. Select your area of difficulty from the images below to learn more about potential treatments.
Have you ever had pain that runs down your leg?
What about burning, tingling, numbness?
If so, you might have had Sciatica.
Sciatica is a catch-all diagnosis that refers to symptoms that run down your leg (along your sciatic nerve) but it doesn't tell you much about where it's actually coming from. There are many reasons you might have pain or neurological symptoms running down your leg which is why it is important to get evaluated by a physical therapist who can determine where your symptoms originate.
How can a physical therapist help? Depending on the source, anywhere from 13-40% of people will develop sciatica in their lifetime and 1-5% will battle these symptoms annually. Physical therapy can determine where the pain is coming from. Effective treatment is dependent on where in your leg the pain is, the positions or activities that provoke it, and how intense your symptoms are. This is important because sciatica can originate from your low back, the muscles surrounding the nerves exiting your spine, around musculature in your hip or "sit bones", and anywhere else along the sciatic nerve. Without effective diagnosis of where the issue begins, treatment may not be as successful.
It is important to know that most of the time sciatica is a benign injury. With successful rehabilitation there is no lasting damage or harm that occurs, no matter how severe the symptoms were initially. Typically, getting an X-ray or MRI is not required and most people respond to physical therapy! We might be biased, but, effectively managing sciatica requires a good relationship with a physical therapist who can listen to your symptoms and work with you to address your goals! With 3 clinics in South Burlington, Shelburne, and Hinesburg we are here to help you feel good again. We also have board certified specialists in both Sports and Orthopedics to help you kick sciatica's butt.
See below for a few exercises to start this process! Remember these exercises are not substitutes for medical advice and you should consult a physical therapist for the best course of action. Contact us here if you're interested in setting up a visit! Also check out our blog post on low back pain for additional information.
Bridge: 
Start by lying on your back with your knees bent up and feet flat on the floor. Pull your belly button in towards your spine to tighten up your abdominal muscles and hold this while you lift your hips up towards the ceiling. Try to squeeze your glutes as you lift, hold for a second and then return to starting position. Perform 2 sets of 10-15 repetitions.
Band Resisted Clamshell:
With a resistance band tied or looped around just above your knees, start by lying on your side (affected side up) with your knees bent to about 90 degrees. Open your top leg up towards the ceiling against the resistance and then return to start position. Try to keep your pelvis from rotating backwards as you lift. Repeat 2 sets of 10-15 repetitions.
Elbow Plank:
Start by lying on your stomach with your elbows stacked underneath your shoulders. Slowly lift your body up off the floor into a plank position, keeping your hips in a straight line with your shoulders and ankles. Try to keep your abdominal muscles tight and your gluteal muscles engaged. Hold for as long as you can while keeping good form and then rest, repeat 3-5 times.
Sciatic Nerve Glide:
Start by sitting in a chair or on the edge of your bed. On your affected side, bring your toes up towards your nose. Then simultaneously straighten out your knee while looking up towards the ceiling. Return back to the starting position - bending your knee, pointing your toes, and tucking your chin towards your chest. If this is painful at any time, reduce your range of motion. Repeat 2 rounds of 10 repetitions.
Ever hear of the story of Achilles, the great Greek warrior? So the story goes, he was invincible after he was dipped in the River Styx with the exception of the area he was held by, his heel. At the end of the Trojan war he was finally killed when an arrow struck his heel. The proverbial Achilles' Heel.  Nowadays, we don't often walk around having been struck by an arrow but many of us do develop heel pain termed "Achilles Tendonitis".
The problem is that Achilles Tendonitis is a bit of a misnomer. The suffix "-itis" refers to inflammation and for years was taken to mean that the origin of pain and dysfunction was purely inflammatory in nature. Therefore, Achilles Tendinopathy is now the preferred term as inflammation is now understood to only be present in the first few days. As the symptoms persist longer, the evidence shows that it is more likely caused by degeneration, or breakdown, of the tendon structure.
Unfortunately, one third of missed work days are a result of musculoskeletal problems. Furthermore, 65% of those missed days are a result of these tendon-based overuse injuries. This could mean that something like Achilles Tendinopathy could result in quite a few lost days from work, costing you valuable time and money.
Now that we know what Achilles tendinopathy actually is, what causes it? Usually, it is the result of performing a repetitive task to the point that the tendon cannot repair itself quickly enough. This then causes a degenerative process to occur within the tendon fibers which leads to pain and loss of function. Think of it as an overuse injury: A runner who typically runs 10 miles a week suddenly decides to up his training to 40 miles per week. For the first week he feels okay but after 2 weeks his achilles tendon begins to hurt when he tries to run or hike.
Another example is a middle-aged adult whose made a new year's resolution to get in shape. "New year, new me". They were previously pretty inactive, but decide to try the fun HIIT class at the gym that includes lots of plyometrics, jumping, and running. This is a big change in their activity level and after a few weeks they begin to feel the symptoms of posterior heel pain. Their body responds by activating an inflammatory process in those first few days. This means things that follow the RICE principle (rest, ice, compression, elevation) are probably helpful. However, if things persist for several weeks to months then these are no longer effective strategies for pain relief.
So what do you do? It has been several weeks, the pain is annoying and keeps you from walking, running, hiking, or playing sports. Taking ibuprofen doesn't seem to help anymore and you're getting frustrated. This is where a physical therapist comes in handy. We'll help figure out where your starting point is and come up with a plan to help get you back to the activities you're missing. Typically, just avoiding the activities that hurt will not get rid of the problem. It will feel better for a while but then will just creep back as soon as you start again! Your physical therapist should help you put a manageable load on the tendon through exercise to help stimulate changes at the cellular level. This allows the tendon to become more resilient and tolerant to your painful activities. This process may take some time but remember, we're changing the structural integrity of your tendon! Rome wasn't built in a day. If you are currently experiencing pain similar to this, see below for some exercises that you can try depending on your current level of activity.
While these exercises may help, nothing substitutes for an evaluation by a physical therapist. Luckily, we have locations in Shelburne, South Burlington, and Hinesburg to better serve you. Let us help you feel good again!
Heel Raises: Rise up onto your toes, pushing equally with both feet. Try to avoid turning ankles in/out as you push up. Perform 3 sets of 10 repetitions.
Eccentric Heel Raises: Start by standing on a step with your heels off the edge and lift one leg up. From this starting position, rise up onto your toes and lower back down as far down as you can while keeping your toes on the step. Perform 3 sets of 10 repetitions.
Single Leg Hop: While standing on one leg, hop side to side, landing soft and controlled. Repeat 3 rounds of 10 alternating hops.
Box Jump: Start in front of a box/step in a squat position, jump up and emphasize landing as quietly as possible. Knees should be bent to help absorb force. Step down and then repeat 2 sets of 10 repetitions.
We are the primary care providers for movement dysfunction.
Your doctor knows this and wants you to come directly to us if it hurts to move. Insurance carriers allow you to come directly to us, we participate with all major insurance carriers and help you feel better.
Everyone is an athlete in our practice.
Whether it is your sport or the game of life, we can help you move better and with less pain to do the things you like to do. You will be glad you chose Dee PT.
We accept all major insurances and at Dee PT we have dedicated ourselves to making you Feel Good Again. Give us a call today!