Dee PT is all about movement.
As physical therapists we are experts in the human movement system. Why does it hurt here and not there? What is the source of my pain? If it hurts to move, or it feels better at rest, you should come see us first.
Experiencing pain from an injury? We offer Free Injury Screens. Schedule an Appointment.
Dee Physical Therapy Locations
Shelburne
166 Athletic Drive Shelburne, VT 05482
Burlington
Office 23 San Remo Drive So. Burlington, VT 05403
Hinesburg
52 Farmall Drive Hinesburg, VT 05461
Shelburne, Vermont
166 Athletic Drive
Shelburne,VT 05482
P:(802) 985-4440
F:(802) 985-4445
South Burlington, Vermont
23 San Remo Drive
So. Burlington, VT 05403
P:(802) 865-0010
F:(802) 865-0050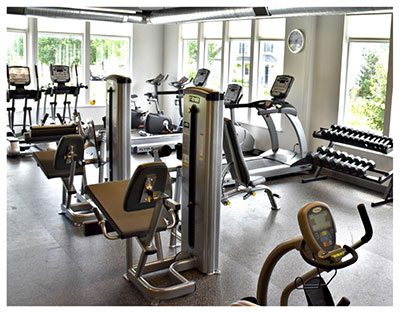 Hinesburg, Vermont
52 Farmall Drive
Hinesburg, VT 05461
P:(802) 482-2200
F:(802) 482-3333
I am thrilled that the facility opened here in Hinesburg. Mike's help with my MS balance issues is wonderful and I am happy to be able to use the fit space on other days of the week – especially the NuStep. I want to also send positive feedback to all the staff for their friendly ways and caring attitude."
What Are Your Symptoms?
Dee PT can help you address a variety of symptoms. Select your area of difficulty from the images below to learn more about potential treatments.
Dee PT is excited to announce the Fit Space will be OPEN beginning Wednesday, July 7, 2021!   As a healthcare facility, Dee PT follows the Vermont State and the CDC guidelines for Healthcare facilities.  Masks are REQUIRED at all times by all members.   During this "phased" reopening process, and for the safety of staff/patients and members alike, we are allowing only vaccinated members.   Please call the Hinesburg office to sign up! 802-482-2200
Members MUST fill out a Liability Form prior to starting, as well as sign in/out each visit.
Hours of Operation: 
Monday – Friday: 4 am – 10 pm
Saturday & Sunday: 4 am – 5pm.
Membership Rates:
Individual: $30/month
Student/Senior (60+): $25/month
1st Responder: $20/month
Current Patient: $20/month
Our physical therapists will be conducting a series of balance classes virtually through the Charlotte Senior Center starting in September. If you or someone you know are interested in signing up, please email your name, address, phone number, and name of the course to [email protected] Or you can call (802) 425-6345 for more information.
1. The Basics to Better Balance – A Virtual Lecture
Wednesday Sept 9th from 1:00-2:00
Balance is an integral element in nearly all of our physical functions.  Be it walking to the mailbox without fear of falling, balancing through your tennis stroke, or keeping steady as you descend Camel's Hump, balance plays a major role in our daily lives.  Understanding balance and where it comes from is the first step in improving it. Doctors of Physical Therapy from Dee Physical Therapy will be discussing the anatomy of the balance system, how it works, typical problems, and how they are commonly treated.  
2. Better Balance 1 – A 3 Week Virtual Class Series of Introductory Balance Exercise
Tuesdays from 11:00 – 11:45am
Starting 9/15
Doctors of Physical Therapy from Dee Physical Therapy will lead a 3 week series of classes designed to improve your balance and reduce fall risk.  This program will emphasize development of a safe home exercise program that participants can do between sessions and beyond the 3 week course.  It is appropriate for individuals of varied balance abilities and recommendations will accordingly be made to adjust exercise difficulty.  
3. Better Balance 2 – A 6 Week Virtual Class Series of Comprehensive Balance Exercise
Tuesdays and Fridays from 11:00 – 11:45am
Starting 10/6
Doctors of Physical Therapy from Dee Physical Therapy will lead a 6 week series of classes designed to improve your balance and reduce fall risk.  This program is a more intensive version of Better Balance 1, consisting of two classes per week with progressive advancement toward more complex balance exercises.  It is appropriate for individuals of varied balance abilities and recommendations will accordingly be made to adjust exercise difficulty.
Have you ever had pain that runs down your leg?
What about burning, tingling, numbness?
If so, you might have had Sciatica.
Sciatica is a catch-all diagnosis that refers to symptoms that run down your leg (along your sciatic nerve) but it doesn't tell you much about where it's actually coming from. There are many reasons you might have pain or neurological symptoms running down your leg which is why it is important to get evaluated by a physical therapist who can determine where your symptoms originate.
How can a physical therapist help? Depending on the source, anywhere from 13-40% of people will develop sciatica in their lifetime and 1-5% will battle these symptoms annually. Physical therapy can determine where the pain is coming from. Effective treatment is dependent on where in your leg the pain is, the positions or activities that provoke it, and how intense your symptoms are. This is important because sciatica can originate from your low back, the muscles surrounding the nerves exiting your spine, around musculature in your hip or "sit bones", and anywhere else along the sciatic nerve. Without effective diagnosis of where the issue begins, treatment may not be as successful.
It is important to know that most of the time sciatica is a benign injury. With successful rehabilitation there is no lasting damage or harm that occurs, no matter how severe the symptoms were initially. Typically, getting an X-ray or MRI is not required and most people respond to physical therapy! We might be biased, but, effectively managing sciatica requires a good relationship with a physical therapist who can listen to your symptoms and work with you to address your goals! With 3 clinics in South Burlington, Shelburne, and Hinesburg we are here to help you feel good again. We also have board certified specialists in both Sports and Orthopedics to help you kick sciatica's butt.
See below for a few exercises to start this process! Remember these exercises are not substitutes for medical advice and you should consult a physical therapist for the best course of action. Contact us here if you're interested in setting up a visit! Also check out our blog post on low back pain for additional information.
Bridge: 
Start by lying on your back with your knees bent up and feet flat on the floor. Pull your belly button in towards your spine to tighten up your abdominal muscles and hold this while you lift your hips up towards the ceiling. Try to squeeze your glutes as you lift, hold for a second and then return to starting position. Perform 2 sets of 10-15 repetitions.
Band Resisted Clamshell:
With a resistance band tied or looped around just above your knees, start by lying on your side (affected side up) with your knees bent to about 90 degrees. Open your top leg up towards the ceiling against the resistance and then return to start position. Try to keep your pelvis from rotating backwards as you lift. Repeat 2 sets of 10-15 repetitions.
Elbow Plank:
Start by lying on your stomach with your elbows stacked underneath your shoulders. Slowly lift your body up off the floor into a plank position, keeping your hips in a straight line with your shoulders and ankles. Try to keep your abdominal muscles tight and your gluteal muscles engaged. Hold for as long as you can while keeping good form and then rest, repeat 3-5 times.
Sciatic Nerve Glide:
Start by sitting in a chair or on the edge of your bed. On your affected side, bring your toes up towards your nose. Then simultaneously straighten out your knee while looking up towards the ceiling. Return back to the starting position - bending your knee, pointing your toes, and tucking your chin towards your chest. If this is painful at any time, reduce your range of motion. Repeat 2 rounds of 10 repetitions.
We are the primary care providers for movement dysfunction.
Your doctor knows this and wants you to come directly to us if it hurts to move. Insurance carriers allow you to come directly to us, we participate with all major insurance carriers and help you feel better.
Everyone is an athlete in our practice.
Whether it is your sport or the game of life, we can help you move better and with less pain to do the things you like to do. You will be glad you chose Dee PT.
We accept all major insurances and at Dee PT we have dedicated ourselves to making you Feel Good Again. Give us a call today!